The Facebook pixel is an analytics tool that allows you to measure the effectiveness of your advertising by understanding the actions people take on your website. You can use pixel data to:
Make sure your ads are being shown to the right people

Build advertising audiences

Unlock additional Facebook advertising tools
There are several ways you can use data collected from the Facebook pixel tracking to refine your Facebook advertising strategy.
With the Facebook pixel, you can:
Reach the right people

Find new customers, or people who have visited a specific page or taken a desired action on your website. Plus, create Lookalike Audiences to reach more people who are similar to your best customers. Learn more.​

Drive more sales

Set up automatic bidding to target people who are more likely to take an action you care about, like making a purchase. See how to optimize your ad sets for conversions.

Measure the results of your ads

Understand how successful your ad is by seeing what happened as a direct result. You can view information like your conversions and sales. Find out what data you can see from your Facebook pixel page.​
1. From your Facebook Ads Manager, click the hamburger icon (≡) and choose Pixels.
2. Click Create a Pixel.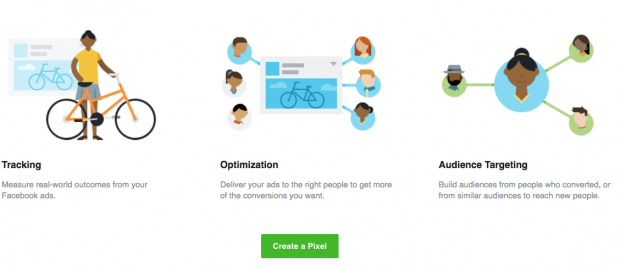 3. Name your pixel, accept the terms, and click Next. When choosing the pixel's name, keep in mind that you only get one pixel for each ad account, so the name should represent your business, rather than a specific campaign.
Open SEO/Analytics setup (see the image below)
2. Enter the Pixel ID in Pixel column and Click SET
Make sure to click on Set button.
Make sure to click on Publish button to make the changes Live on your website.